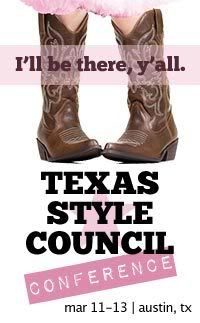 Friday night was the clothing swap hosted by
Swap.com
and the
Swapaholics
. I've heard of these but never participated before. Clothing drop off was between 7 and 8, then they opened the doors at 8:30. I got there at 7:15 and there was already a line of ladies who had dropped off their clothes and were now waiting for the fun to begin. I decided to join the line. Later on, I learned that was unusual. Usually swappers don't wait in line, they just come back at the designated time. However a photographer told us that at an event in Boston, everything had been cleared out within 15 minutes--and it was four times the size of the Austin event. That bit of info made me paranoid it was going to be a smash and grab with fighting and hair pulling.
I am happy to report that it wasn't. Everyone was very calm and nice--looking at the size of an item, then moving on and making room for others to look.
I think I made out like a bandit. Here are the pieces I came home with:
The skirt is from Liberty of London for Target. You know how I love peacocks!
Super cute with puffy sleeves.
Red sweater dress. Meow!
This still has the store tags (from Forever 21).
I am a sucker for red and blue plaid. This will look great with my red cowboy boots!
Cute romper. Another gem from Target.
And finally, the piece de resistance:
I die! Gold! I can see this with a black tank underneath, black belt and either black strappy flat sandals or boots

.
I think the gold dress was the best piece at the whole swap! It fits me perfectly. It was brought to the swap by Jessie of
The Concrete Catwalk
. Thank you Jessie!